Post-ToD
Tymanther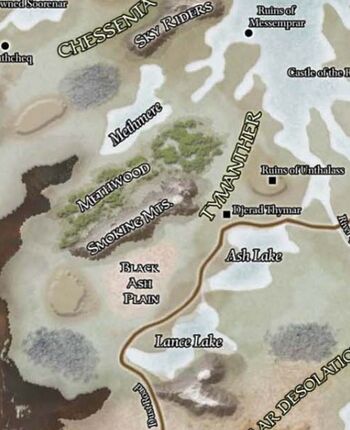 Tymanther is a displaced section of the Abeiran, militaristic dragonborn-ruled state of Tymanchebar. Tymanther is located in the Old Empires region that was once southern Unther. The bulk of the dragonborn population resides in its capital, the citadel-city of Djerad Thymar.
Djerad Thymar is the seat of power for a highly militant dragonborn kingdom, struggling to make a name for themselves in the lands of Faerûn. Tymanther is ruled by the Vanquisher, who acts as both a monarch and a general. All citizens spent some time in the Lance Defenders, the kingdom's highly trained army, and the population is ever-ready to take up arms again should their country be threatened.
Notable locations
Arush Ashuak: A village that serves as the breadbasket of Tymanther, located on the Greenfields.
Arush Vayem: A small, isolated village located in the Smoking Mountains.
Djerad Kethendi: A port city in the Alamber Sea.
Djerad Thymar: The dominant Tymantheran settlement and its capital city.
Ruinspoke: A village that serves as the base of operations for adventurers exploring Untheran ruins.